Kirsten Abbey Reutebuch is excited to be an AMA, read all about it from her perspective: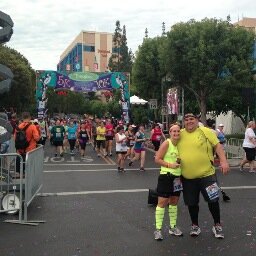 "I am officially an Asheville Marathon Race Ambassador!!!!!  The race will be run on the grounds of the Biltmore Estate on March 16, 2014 (please please please hope I'm not on call that weekend).  For those that don't know this race will hold a special place in my heart for many reasons.  I lived in Asheville for 4 years…that is where me and Ty got our life started together…where Addie was born…where I started my running journey.  It was in Asheville that I decided to run my first 5k, and then decided to run a 5k a month…and then got this crazy idea to try a half marathon…and well it went downhill from there.  I volunteered at the old Kiwanis 15k at the Biltmore Estate a few years ago.  I used to live by the Biltmore Estate and yet never went to visit it.  Also I will get to visit several friends that I haven't seen in years.  And….since I am doing New York Marathon, Space Coast Marathon, DisneyWorld Marathon…if I add 2 more marathons (which I can easily do) I will move up a maniac star in Asheville!!!  So come run with me!!!!"
Read the full blog post here.
KIRSTEN ABBEY REUTEBUCH | DAVENPORT, FL
My fall races started with the Disneyland Dumbo Double Dare, then Tower of Terror 10 miler, Celebration Rotary 10k, ING New York City Marathon (so excited!!!!), Disney's Wine and Dine Half Marathon, Women's Half Marathon in St. Pete, Space Coast Marathon, Florida Holiday Half Marathon, Disney Dopey Challenge, Clearwater Half Marathon, Celebration Marathon, and Asheville Marathon to finish out the season.  I'm sure there will be more half marathons and at least one more full in February.  My race goals for this year are to break 5:30 for a full marathon and 2:15 for a half marathon.