If you know running, you know a good race when you have the chance to experience one. Likewise, when you know good running shoes, you know the awesome Mizuno line. That's why the Asheville Marathon at Biltmore Estate is happy to share the race experience of Matt Booth, from Mizuno, at the 2013 Asheville Marathon.
1. Why did you pick the Asheville Marathon on Biltmore Estate as your first and only marathon so far?
I've been involved in sports my whole life but never considered a marathon until I starting working with Daphne and her team on the Biltmore race. I was intrigued by the location and mostly dirt road route. I started thinking about it and before long, I was signed up.
2. Not knowing what to expect running 26.2 or doing a race of this nature since it was the inaugural race, what recommendations do you have for other first timers?
Pick a marathon training plan, stick to it, and do as many of your runs on hilly terrain as you can. The course isn't technical trail, so it's not so important that you train on trail, but you definitely want to get used to running long distances on hilly terrain. A buddy of mine is a coach and was nice enough to train me for the race. Having the accountability of another person was very helpful.
3. What were the top 3 highlights of the race for you?
In no order, seeing the Biltmore House, running with the horses, and just managing the race.

I had never seen the house before, and the way it is presented to you during the race is very dramatic. You come around a turn and boom, there it is. It's so big it almost looks fake. The road runs toward it for a while, then along the front, then away from it, so you get a good long look at it. It's impressive.

At two points in the race you run by fields with horses. They were so excited to see the runners they kept running up to the fence, then along the fence with the runners, then turn around and do it again. It's as if they were so excited to see another creature enjoy running like they do they just wanted to share in and play. They couldn't get enough, they kept doing it.

As far as managing the race, I just mean the experience of going through it and mentally getting past your own hurdles and the way the course would either help (beautiful scenery) or hurt (hills!) your effort to get through.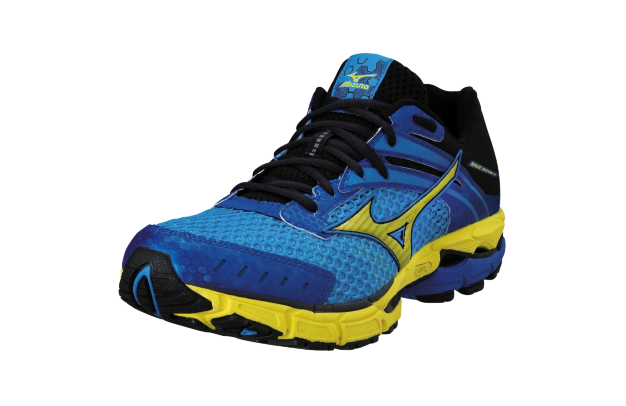 4. What Mizuno shoes did you wear on race day? Would you recommend those same shoes now that you have done the race or do you think there is a better shoe to recommend for the 2014 marathoners?
I wore the Inspires. They were great. I wear them on the road and they worked perfect for the Biltmore course.
An expert in the running world like Matt knows what a big commitment it is to train for and run a marathon, so you know he made good and sure he was prepared for his very first marathon attempt. This Mizuno wizard of the laces gave the inaugural Asheville Marathon a shot, the only question that remains is why don't you do the same in 2014?
Register now for the 2014 race at IMathlete, and start working towards that March 16th finish line today. For more info, check out the official Asheville Marathon site or contact events@idaph.net.
Check out our exciting Mizuno Contest we have going on through today – October 10th.